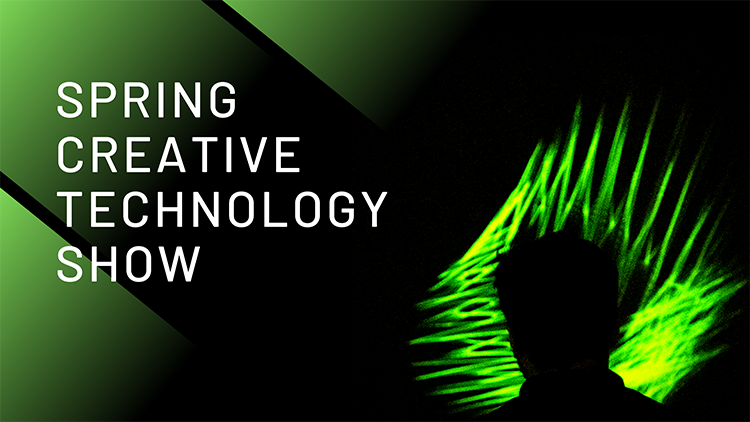 Make+Think+Code is delighted to host a magical show of creative and emerging technology projects, installations, demos, and experiments by the Make+Think+Code community of artists and technologists. Saturday, May 11, 2019 2pm - 6pm at PNCA.

Come by our beautiful building at 511 NW Broadway on Saturday, May 11, 2019 2pm - 6pm to play with us. Experience the wonderful projects, meet our inspiring faculty and students, and learn about our plans for summer institutes, projects, and workshops. Share with families, friends, and colleagues - we want all of you to start creating lovely and magical things with vr/xr light, sound, coding, and technology. Artists involved included students, staff, alumni, faculty, and community partners of Make+Think+Code.
image by Finn Peterson, work by Scott King


Participating Artists
Austin Meros - Fake Visuals
Sounds and music are used to manipulate a video feed of the people who are interacting with the piece.

Bennett Battaile - Hinge Wheel
3D animated model of an odd unicycle mechanism
Catherine Ross - the last straw
A sound piece made using granular synthesis sourced from sonic data collected by scientists aboard the Shimada during their 2018 pacific hake acoustic survey.

Catherine Ross - inter-
A multi-media performance about labor stratification within natural resource management efforts in the Pacific Northwest.

Emilie Jensen
Finn Peterson - Depth Mapping and Film
An interactive VR experience coupling contemporary film techniques and emerging media of depth-sensing camera perspectives.
Jesse England - Future Strategies
Custom made 80 column IBM punch cards readable by machine and human.
Joseph Furness - Bell Labs 103: Modulator
Accessing points within a system can help us understand what exactly is happening to our data, our identity.
Joshua Hibbard & Rich Conway - Connected
An interactive installation that speaks about the science of human interconnection with each other and the world around us.
Justin Patrizi - Solarium
An interactive piece that places the viewer's outline inside the projection, and allows them to alter the video and audio with body movement.
Laura Medina - Live VJ/DJ set
Video and music intertwine is this live set, inspired by movement, birds, and the desert.
Mike Heavers - Machine learning for artists
Learning material, demos, and experiments from the machine learning for artists course at make+think+code

Rachel Hill - Ola's Heart
An interactive display about detachment from reality and replacing humans with machines; specifically for economic gain through emotional manipulation.

Ran Sheng (盛然) - Karma Has You
A young man suffering from a lost love, trying to find a way to free himself from his emotional hell, but instead of his lover, he finds himself facing his karma, which relates to his past life.

Reese Bowes - Disparities
The third piece in a series of interactive artworks that explore the relationship between the viewer and the viewed object.
Sarah Bailey - Biosphere through a Technologic Lense
Our perception of and relation to, the natural world, and the biological body, is changing; along with the progressive expansion of the Technosphere.
Savanna Judd - Kitty
Three small demos for an interactive narrative browser-based experience retelling the story of Kitty Genovese and urban apathy through illustrated crime scene models.
Scott Garner - Selected VR Works
A selection of four short works for VR.
Tatiana Zancajo-Lugo & Ryan Gamblin - Guided Meditation
The Mixed Reality piece begins to walk its user through a mindfulness exercise but is distracted by the familiar voice of worry. It is a piece about the anxieties we carry into "new" spaces.

TJ Orloski

Trinity Wang - Tell Me A Story
A VR experience where the player can choose which side of a story to view: a fairytale of a kingdom and a beast or the terrors of a tyrannical ruler.

Zara Bixby - Artificial Zara
An experiment and collaboration with machine learning programs and programs many of us interact with on a daily basis.

And make sure to look for inspiring work by the students in the Art and Ecology minor in Gallery 157.